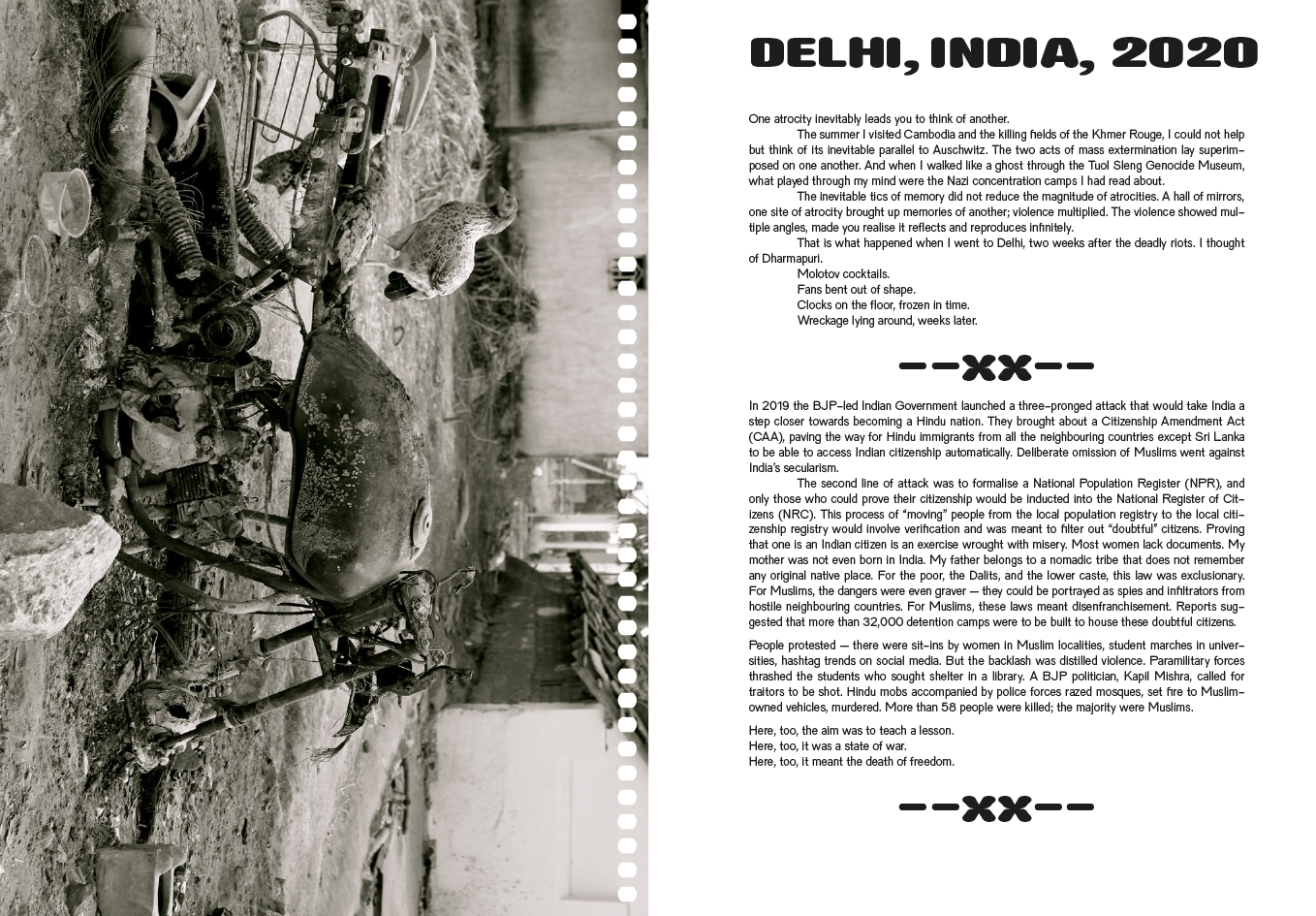 Who were we, you and I?
Junge Akademie

Twenty-one publications in one: the 21 contributions of the 2020 Junge Akademie Fellows are held together with a solid metal spiral. Each chapter has its own cover and imprint. The spiral binding allows the chapters to turn 360 degrees. Each cover thus potentially marks the beginning of the book. One for all.
While the fonts (by
Jun-Lee Type Foundry
and
GUST e-foundry
) remain the same, the designers Paul Steinmann and Lisa Baumgarten respond to each stipendiary and their contribution with the layout by picking up on behaviours and details from the artists' works.
A publication of the Akademie der Künste, Berlin
Concept and Graphic Design: Lisa Baumgarten & Paul Steinmann

With contributions by Christin Berg, Yvon Chabrowski, Farhad Delaram, Cássio Diniz Santiago, Miguel Hilari, Ruth Kaaserer, Meena Kandasamy, Sasha Kurmaz, Mohamed Mbougar Sarr, Nida Mehboob, Ada Mukhina, Nazanin Noori, Jennifer O'Donnell, Sahej Rahal, Lucie Sahner, Mia Sanchez, Fabià Santcovsky, Aled Smith, Undine Sommer and Philipp Valente.

President: Jeanine Meerapfel
Editor: Clara Herrmann, head of the JUNGE AKADEMIE, 

on behalf of the Akademie der Künste, Berlin
JUNGE AKADEMIE Team:
Franziska Benkel, Clara Herrmann, 
Miriam Papastefanou, Luise Pilz
Editorial Office: Clara Herrmann, Luise Pilz
Project Management: Luise Pilz
Editing (English Texts): Wendy Wallis (transART, Berlin)
Translations: Moira Barrett, Simon Pleasance, 
Laura Noonan (Sprachwerkstatt Berlin)
Typefaces:
 Joseleen, Pirelli and Impact Nieuw by Jungmyung Lee, J-LT Foundry; Tex Gyre Heros Condensed by Boguslaw Jackowski and Janusz Nowacki, GUST e-foundry
Paper: Maschinengraukarton GKH, 300 g/m²LuxoArt Samt, 100 g/m²
Printing: Druckhaus Köthen GmbH & Co. KG, Köthen
Binding: Otto Küstermann GmbH, Ebhausen

Publisher: Akademie der Künste, Berlin, www.adk.de

© 2021 Akademie der Künste and the artists
ISBN 978-3-88331-244-6